Her er et billede af mit serverrum. Det er sådan ca. halvdelen af et skab i vores bryggers.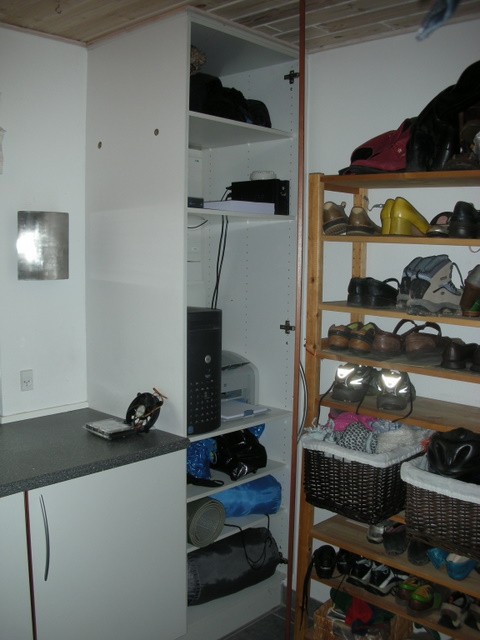 Inde i skabet ser vi en sort server (Dell sc420), en HP LaserJet 1020 printer.
På hylden over serveren ser vi fra venstre lidt af min Switch, en bunke papir og min UPS. Ovenpå UPSen ligger en røgalarm.
På bordet til venstre for skabet ser vi mine næste projekter:
Til venstre en harddisk der skal erstatte en harddisk i serveren. Den gamle er ved at gå i stykker.
Til højre står der en 14cm-blæser som man normalt bruger til at bygge ind en støjsvag PC. Den skal jeg have sat ind i skabets væg. Hvis man ser på skabet nu kan man se to huller ca. en meter over bordet. Det venstre hul kommer til at blive noget større, og der skal blæseren monteres. Jeg vil have bedre luftcirkulation i mit serverrum.